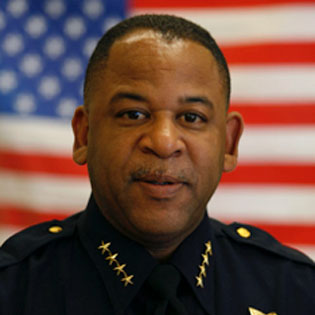 Andre' Barnes
ASSOCIATE
Chief Andre' L. Barnes served as Chief of Police at the San Francisco City Community College District Police Department for 8 years (July 2009 through July 2017) after having served five and half years as Chief of Police with the San Jose State University Police Department, of the California State University System, and twenty-four years of service with the Oakland Police Department.  As Chief of Police with the SFCC District he oversaw the security of eleven (11) campuses and managed a staff of 40 sworn and non-sworn officers and 3 civilian employees.
He began his law enforcement career as a volunteer Cadet and Reserve Officer with the Alameda County Sheriff's Office.  In 1979, Chief Barnes began his tenure with the Oakland Police Department where he rose to the rank of Lieutenant.  He served in a variety of positions covering most aspect of law enforcement and police management.  Chief Barnes states his most rewarding assignments were patrol and community services divisions.
He currently serves as a Consultant and Interim Chief/Director for D. Stafford and Associates (DSA). He provides interim execute administrative leadership for DSA clients. His duties include the exercise of discretion, professionalism, courtesy, critical thinking, problem solving and timely performance of job duties.
He is a member of the National Organization of Black Law Enforcement Executives, the International Association of Campus Law Enforcement Administrators, and the International Association of Chief's of Police.  Chief Barnes holds a Bachelor of Arts degree in Individual Studies and Administration of Justice from Columbia College of Missouri.  He is also a graduate of the F.B.I. National Academy, 203rd session.
Chief Barnes has served the liaison for the Santa Clara County Police Chief's Association, served as an expert panelist for police departments recruitment oral boards throughout the nation and has served as a lecture for criminal justice management courses at California State Universities.  Also, Chief Barnes holds several advanced training certifications from California's police accreditation agency (POST), Executive Management Certificate, Supervisory and Advance Police Training Certificates. Additional training certificates include National Incident Management Systems (NIMS) certificate for managing emergency operations as well as completion of the Incident Management Unified Command (TEEX) course at the Texas A&M University College Station, Texas.
Under Chief Barnes' leadership, the San Jose State University Police Department was recognized by campus administration for being noted as the leading California State University Police Departments for two consecutive years, the number one rating for campus community customer satisfaction.  Also, the department was recognized for leadership in community services projects such as Northern California Special Olympics, Youth Summer Book and Holiday Toy Drive programs.  The department also received state recognition (first place) from the California Highway Patrol two consecutive years for its efforts in the statewide traffic safety Driving Under the Influence and Seat Belt program in the University and College category.
Chief Barnes also established the San Jose State University's Collegiate 100 program which is an affiliate of the 100 Black Men of America, Silicon Valley chapter college student mentor program.
Away from his duties as Chief, Andre enjoys spending time with Bessie, his wife of 30 years and his sons Andre Jr. and Justin.  In his "spare" time he holds a private pilot's license and is certified to fly single engine airplanes.  He also coaches youth sports in Solano County.