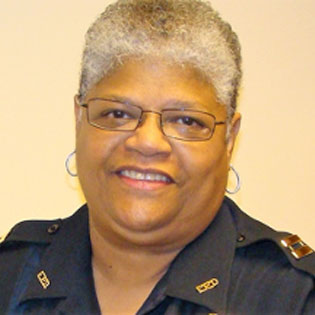 Cheryl Elliott
ASSOCIATE
Chief Elliott has 35 years of Campus Law Enforcement experience including Emory University and Georgia State University, both in Atlanta, Georgia. Chief Elliott is currently the Associate Vice President and Chief of Police for Emory University and holds the position of Chief Security Officer for Emory University and Emory Healthcare. Chief Elliott retired in 2017 from Emory police but was asked to return as the CSO and agency head in May 2021. In her initial retirement in September 2018, she was asked to remain as a consultant and served as Assistant to the Chief of Police and was responsible for developing and implementing strategic planning for Special Projects with a focus on University community collaboration for 2 years. Command responsibilities and experience include
the Communications Center (911), Police and Civilian Training, Emory University Enterprise-Wide Threat Assessment Team, Investigative Unit (CID), Crime Prevention/Suppression Unit Commander and Department Public Information Officer, including Social Media. 
She developed and implemented the Agency Assessment Center for promotions with no promotions contested for over 15 years. In 2006-2010 she was a Dialogue Leader for Emory's Transforming Community Project (TCP), a five-year program designed to engage all sectors of the University in a process of discovery and dialogue about Emory's racial history. She is a founding member of the Emory University Threat Assessment Team set up to preserve the safety and security of the university community. The team received, assessed, and responded to information on perceived threats to the safety and security of university students, staff members, visitors, and property.  She served on the University Sexual Assault Advisory Board and Intimate Partner Violence taskforce, working closely with various schools and Departments throughout the University, Human Resources and Student Affairs. Past contributions also include serving on the Emory President's Commission on the Status of Women, Taskforce on Development of the Emory Open Expression policy, Emory Employee Council, Campus Disability Access Committee, and the Taskforce on Work-Life Balance. 
She has a Bachelor's Degree in History from Georgia State University and a Master's in Public Administration from Columbus State University.
Ms. Elliott served on the Professional Certification Board (PCB) for ASIS (American Society for Industrial Security), International from 2009- 2016. She is Board Certified as a Protection Professional (CPP) and Professional Certified Investigator (PCI).  In 2018, she served for two years as a Certification Board Advisor to ASIS International for the Professional Protection (CPP) program. ASIS Publications developed, contributed and/or reviewed: ASIS Professional Certified Investigator Manual (2010), ASIS/SHRM Workplace Violence Prevention and Intervention Standard (2011), ASIS Standards and Guidelines (ANSI certified) in Investigations 2014. In 2016 she received the ASIS International President's Award of Merit given annually to an individual member for distinguished service.
She has served as a consultant for multiple private organizations using her experience, skills and training as a threat assessment and police standards and practices expert. Serving on multiple police promotional boards as an Assessor for private consultants; training in school violence safety programs, including physical security surveys using CPP and CPTED principles and healthcare and higher education general training and standards audits. Currently, she serves as a consultant and team member of D. Stafford & Associates. 
Ms. Elliott served as past President and Executive Board Member for ISCPP (International Society of Crime Prevention Practitioners) providing training with them from 1998- 2015 at various agencies and national police academies including Police and Security Groups in Canada, Singapore and Bangalore, India. During this time with ISCPP she exercised administrative and non-profit compliance responsibilities and executive oversight over Society Training Symposiums throughout the Country. In the ATAP (Association of Threat Assessment Professionals) group she was a Southeastern Charter member serving on the chapter board for multiple terms and from 2014-2016 as a National Education Co-Chair for the group. 
Ms. Elliott is a certified Instructor for Georgia Peace Officers and Standards (POST) since 1997, a certified Departmental Training Officer and a Senior Instructor approved to provide Georgia Instructor training including Supervisory and Management courses for Georgia Academies. She has served as a Trainer for Community Oriented Policing (COPS); Domestic Violence "Safe" Trainer (BC/BS) and the National Coalition Building Institute (NCBI) diversity trainer. Training Specialist for Michigan RCPI, Instructing DOJ course in Crime Prevention on College Campuses, 2009-2010. Advanced training in Title IX, Threat Assessment and Campus related issues.
In her work Ms. Elliott found a passion in identifying best practices to train herself, the agency, their Investigative Units and included providing her expertise to Metro and State police taskforces. This included participating in the inception of the Dekalb County Family Violence Coalition and participation in the development of the Dekalb County Sexual Assault workgroup to standardize sexual assault protocols for the county. Also, providing training in her career for the annual Georgia Partners Against Domestic Violence (PADV) Corporate Workplace Violence training along with other trainings, panels, and conferences on fraud, crime prevention and criminal investigations.
Ms. Elliott has been recognized for her work and professionalism in her career: Emory Police Officer of The Year, 1995; ISCPP George Sunderland Lifetime Achievement Award, 2004; Emory University employee of the year, 2005; Emory University Community 100 for Diversity, 2009; Emory Campus Life Support Person of the Year, 2014.