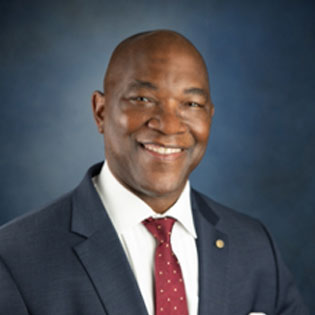 Hampton N. Cantrell
ASSOCIATE
Chief Hampton N. Cantrell is a public safety professional, attorney and community volunteer with over 35 years of law enforcement and public safety experience.
For over 10 years (2008-2019), he was the Associate Vice President and Chief of Public Safety at Loyola Marymount University in Los Angeles. In this position, he had oversight of the university's security and protection services on campus, including emergency preparedness planning, investigations, threat assessment, security technology and access control. He chaired the university's Emergency Management Committee, ensuring the campus received regular training in topics like active shooter, earthquake preparedness, severe weather response and the Incident Command system. He was particularly proud of his work to remodel the public safety facility with a state-of-the art dispatch and Emergency Operations Center (EOC) center. He was credited with creating and mentoring a talented, multicultural team of campus safety professionals.
Prior to joining LMU, Hampton served in municipal law enforcement for more than 26 years. He started his law enforcement career in 1982 as a police officer for the Compton Police Department in California, where he was a patrol officer. In 1984, he joined the Inglewood Police Department in California, where he worked as a patrol officer, field training officer, community policing specialist, patrol bureau adjutant and the department's press information officer, ascending through the ranks to become a sergeant, lieutenant and captain. During his 9 years as a police captain, he commanded all three major bureaus in the police department: the Patrol Bureau, Detective Bureau and Administrative Services Bureau. He led the City of Inglewood's Emergency Preparedness Committee. He was proud of his work creating and commanding the Inglewood Police Department's first community policing division, where, in collaboration with senior lead officers, he worked to create community policing centers (substations) throughout the city and provided training to the police department and community on community policing principles.
As an attorney, Hampton currently works as private consultant, where he has provided police practice reviews and internal assessments. In 2020, he was the lead manager of a consulting team that provided an independent review of a use of force/in-custody death incident at a California municipal police department. He wrote the final report on behalf of the consulting team. Currently, he serves as a consultant and team member of D. Stafford & Associates.
He earned his B.A. in political science and social ecology from the University of California, Irvine, and his A.A. in criminal justice at Long Beach City College. He received his J.D. at Southwestern University School of Law in Los Angeles and was admitted to the California Bar Association in 1998. He earned a certificate in crisis leadership in higher education from Harvard University in 2011. He has received certifications in Title IX, Clery, VAWA, FERPA, workplace harassment prevention and implicit bias.
Hampton believes strongly in active community volunteer work. He is a current member of the executive board for the Westchester Family YMCA in Los Angeles, a board member for the Westchester Rotary Club, and the Immediate Past President (President, 2018-2020) of the California College and University Police Chief's Association (CCUPCA).