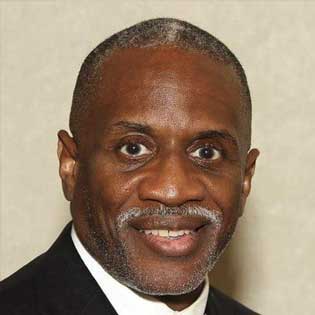 Kevin Williams
ASSOCIATE
Chief Williams shares the following philosophy with every member of his team: respect is a vital part of how we provide service within our community.  His goals include maintaining a safe campus environment, the reduction of underage alcohol consumption, increasing community partnerships and delivering superior public safety services.
Chief Williams is a graduate of Cass Technical High School in Detroit, Michigan.  He received a Bachelor of Arts degree from Mercy College of Detroit (now the University of Detroit/Mercy) and a Master of Arts Degree in Organizational Management from the University of Phoenix.  His education continued with attendance and graduation from the Los Angeles Police Department's (LAPD) Command Development Program and the Oregon State Sheriffs' Association (OSSA) – Command College, Class #5.  He is currently a graduate student at the University of Michigan-Dearborn, pursuing a Master of Science Degree.
He was selected to serve as Chief/Interim Director of Campus Safety for the KSC Department of Campus Safety for 16 weeks, starting in January 2019.  His serve concluded 18 months later, in July 2020.   During that time, he was responsible for directing all campus security operations and was entrusted with the safety of approximately 5,000 students, faculty, and staff, at that campus.  Prior to his appointment at KSC, he served as the Police Chief/Director of Public Safety at the University of Michigan-Dearborn, Police Commander at Arizona State University – Tempe Campus, Corrections Division Commander at the Lane County (Oregon) Sheriff's Office, Chief/Director of Public Safety at the University of Oregon and 20 years with the LAPD where he retired at the rank of Police Lieutenant.
During his LAPD career he mentored hundreds of employees, significantly reduced grievances, taught watch commander's school for 10 years, initiated several audits that uncovered inappropriate behavior and he wrote the LAPD's Pursuit Policy.  Chief Williams was an active member and promotional instructor for the Latin American Law Enforcement Association (La Ley), the Oscar Joel Bryant Foundation, the Los Angeles Women's Police Officers' Association, and the Law Enforcement Association of Asian Pacific's.
Chief Williams has been a guest lecturer and speaker at Cypress College (California), the University of Irvine (California), California State University at Northridge (CSUN), the University of Oregon, the Los Angeles Police Academy, the Oregon Department of Public Safety Standards and Training (DPSST) Academy and at Command College.
Chief Williams is a Past President of the Southern California Chapter of the National Organization of Black Law Enforcement Executives (NOBLE).  He is a member of the International Association of Campus Law Enforcement Administrators (IACLEA), the International Association of Chiefs of Police (IACP) and a life member of NOBLE, NAACP, Blacks in Government (BIG) and the Alpha Phi Alpha Fraternity, Inc.
Chief Williams has been married to his wife (Laura) for 37 years and they have four children.  Between them, there are 14 degrees in the Williams household.